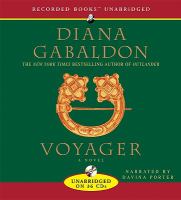 Voyager. / Diana Gabaldon.
Author:
Gabaldon, Diana, author.
Note:
Time-traveler Claire Randall returns to her own time, pregnant and weary, and resumes her life, but her memories of her eighteenth-century Scottish lover, Jamie Fraser, will not die, leading her to a desperate decision to return to him.
Note:
Unabridged
This item has been checked out 29 time(s)
and currently has 0 hold request(s).