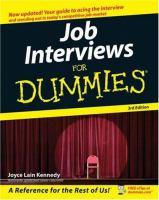 Job interviews for dummies / by Joyce Lain Kennedy.
Author:
Kennedy, Joyce Lain. author.
Note:
An updated job hunter's handbook explains how to prepare for a job interview and present the right appearance, suggests ways to answer frequently asked questions, and tells how to decide if you really want the job and the proper ways of following up.
Note:
Includes index.
This item has been checked out 6 time(s)
and currently has 0 hold request(s).