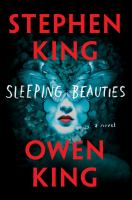 Sleeping beauties : a novel / Stephen King and Owen King.
Author:
King, Stephen, 1947- author.
Note:
In a near-future where women succumb to a sleeping disease and men revert to their primal natures, one mysteriously immune woman struggles to survive in an Appalachian town where she is treated as both a demon and a lab specimen.

This item has been checked out 21 time(s)
and currently has 0 hold request(s).